assalamualaikum…
are we play for the sake of play or are we play because we eagerly wanted to win? saying that these guys don't want to win is pretty outrageous….but saying that they seems like it; I guess it's pretty much okay either. what does the UAE team have that our boys don't? stamina? skills? experience? good coach? well-planned football development program? well…it seems like almost everything, does it? but, it definitely untrue...we do have all these.
how long have they play football compare to our own boys? I don't think that long. so what had actually went wrong? I'm not talking about losing with a goal difference, its five goals to nothing bro. it needs another one more goal to make it half-a-dozen! and I'm talking about after we being exposed to football for approximately 40-50 years…or maybe more. I'm not expressing my anger here. I just felt a little bit disbelief!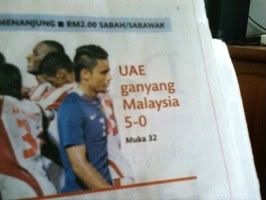 maybe I'm wrong here, but this is my personal view…or maybe an honest view from a normal everyday Malaysian sportsfan! what seems that our own boys' lacks off are the focus and strong-will. if to compare their physical build-ups with the UAE team, the comparison should be apple to apple - not so much difference. but, when come to focusing ability plus the strong-will spirit, the comparison might be apple to some other fruit.
maybe, these guys need to be hypnotized few minutes before they enter the pitch. maybe, they need to do the 'auto suggestion'…where everybody involved focusing their mind to only one target. maybe we should give it a try…I believe there's no harm done trying this especially after trying some other avenues for quite sometimes now…maybe it'll somehow works who knows?? wallahualam