assalamualaikum...
it's been a one enchanting day with Steamline. last Saturday – June 9, I was with them conducting a teambuilding. one thing that I must say here is even I'm alone but I don't feel it that way. they make feel like I'm part of them. they're so cooperative; the participation is so encouraging...the involvement? it's above par. they definitely are building their team. slow but confidently...they want their togetherness become strong while building their team. nothing's wrong with that? they are not that big (about 50 of them in total, if I'm not mistaken) and of course they'll achieve it in a very efficient way.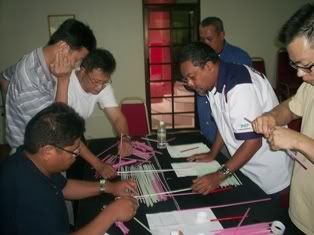 building a team not an easy task...they should know the character of their entire teammates well. after that, they need to suit themselves to the team. once they achieve this, then they can move forward to one direction. making plans, delegating functions, empowering leadership, trusting each other and gearing in achieving missions or goals that come after this will become so simple. my remark is that without having difficulty they can move to the second phase. knowing each other characters and suiting-in is
KACANG
! for them.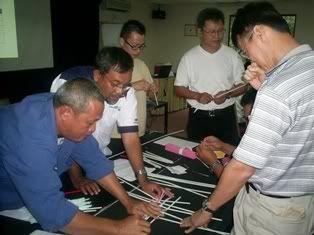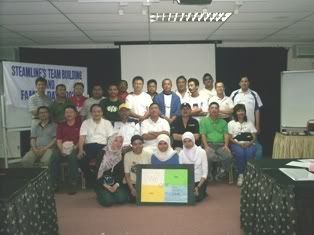 congratulations to team MERAH. the number of the team might be smaller than the other groups but the effort and creativity are all there (...or maybe the luck is also with them...
hehh!
). to other teams...they have definitely done well too. part of my humble observation is at the same wavelength with Mr. Michael – that is the coordination of the roles and functions is a bit flimsy. other things that they might need to look into are planning and communicating. that's it. other than this...they unquestionably is one special group of people. hope they'll leave it that way and while doing so they should keep reaching for the sky...who knows they'll might touch it one day!!
wassalam